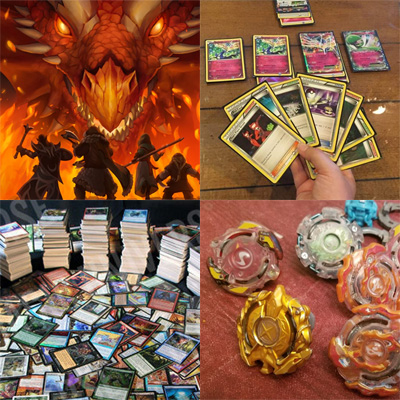 Meet other kids and teens while playing your favorite games!
New! Beyblades Club
Saturdays, June 15, July 20, and August 17 at 11 am
What are Beyblades? In short, they're awesome spinning tops that you can get in different shapes and colors. Battle your Beyblades against others in an arena to see whose can spin the longest. They're great for all ages, and we're happy to show you how to play! We'll have prizes and an arena set up to try your hand at them. All ages!
Dungeons & Dragons Club
Fridays at 3:30 pm in June
Fridays at 1 pm in July & August
We have the books, dice and snacks for your best quest. Grades 5+
Monday Night Magic
Mondays, June 10, July 8 and August 12 at 6 pm
Drop in for Magic the Gathering open play. Grades 5+
Pokémon Open Play
Saturdays, June 8, July 13 and August 10 at 2:30 pm
Bring your own deck or use ours, and drop in! Grades 3+