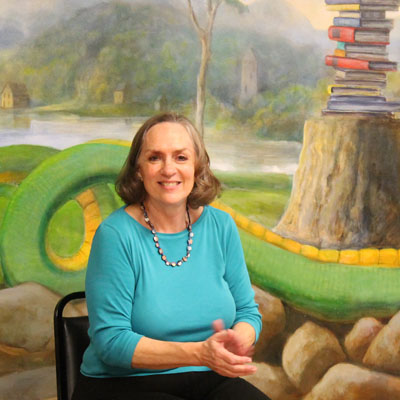 Check back regularly for the latest updates!
Need Help?
We may not be at the library, but we are here to help! Email us anytime at help@manliuslibrary.org with any questions and we will get back to you as soon as possible. We are regularly monitoring email on weekdays from 9am – 5pm.
Get a library card online!
If you don't already have a library card, get a virtual one now to access our online resources. Visit this page to get started. Once you've finished registering for an online library card, you'll have access to online content that includes downloadable and streaming ebooks, audiobooks, videos and music, online learning opportunities, and research databases.
Online Programs with Miss Claire
Online Story Times with Miss Karen & Miss Claire
Check out our weekly schedule to to see Miss Karen and Miss Claire via YouTube or Facebook Live through the week. Recordings will be posted below:
Mondays at 9 am : Toddler Story Time (on YouTube)
Mondays at 10 am: Jigglebugs (on Facebook)
Tuesdays at 9 am: Preschool Story Time (on YouTube)
Wednesdays at 9 am: Toddler Story Time (on YouTube)
Wednesdays at 7 pm: Pajama Story Time (on Facebook)
Thursdays at 9 am: Preschool Story Time (on YouTube)
Each of Miss Karen's videos will be posted to this playlist on our YouTube channel.
Sharin' with Miss Karen
Miss Karen misses her friends and wants to see you! Every Monday at 2 pm, Miss Karen will share pictures from her friends showing what fun they've been up to. Have a grown-up email Miss Karen your pictures at kporcello@manliuslibrary.org so that we can see what fun you're having!
Chat with Miss Claire
Library kiddos, we miss your faces! Drop in to our Zoom session and say hi to Miss Claire (and her little ones). Share what you're up to and talk to Miss Claire about what you're interested in.
Sign up in our event calendar to get the Zoom meeting link emailed to you. You're welcome to come in and leave whenever you'd like!
Online Music Concerts with Aaron Druger
Every day this week from 12:30 pm – 1 pm, local musician Aaron Druger is hosting virtual concerts on Zoom for children. Please click here for meeting access information.
Fun Activities
Local History Exploration Challenge 1: Manlius Village Cemetery
Spring Leaf Hunt (and answers here)
Click here for information on accessing some great resources online for all ages.
Have Spotify? Click here to see Miss Claire's Jigglebugs playlist!
Tumblebooks
TumbleBooks' databases are easy to use, and feature unlimited access from home! Patrons can read as many books as they want, when they want, and on any device. There are no check-outs, holds, or bulky downloads. Books are available instantly.
www.TumbleBookLibrary.com: eBooks for children in Grades K-6

www.TumbleMath.com: Math eBooks for children in Grades K-6

www.TeenBookCloud.com: eBooks for teens in Grades 7-12

www.AudioBookCloud.com: Audio Books for all ages