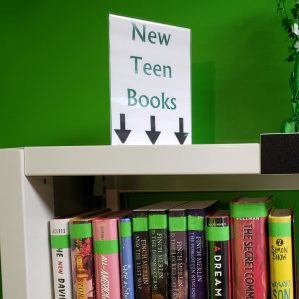 Check out our new blog for teens! Lorie will be keeping this blog updated with the latest information for tweens and teens at Manlius Library.
Need Help?
We may not be at the library, but we are here to help! Email us anytime at help@manliuslibrary.org with any questions and we will get back to you as soon as possible. We are regularly monitoring email on weekdays from 9am – 5pm.
Get a library card online!
If you don't already have a library card, get a virtual one now to access our online resources. Visit this page to get started. Once you've finished registering for an online library card, you'll have access to online content that includes downloadable and streaming ebooks, audiobooks, videos and music, online learning opportunities, and research databases.
Teen Book Tuesday
Here are some of Lorie's latest Teen Book Tuesday videos, these book recommendations come out every Tuesday at 4pm:
Teen Book Tuesday (May 5, 2020)
Teen Book Tuesday (May 12, 2020)
Teen Book Tuesday (May 19, 2020)
Teen Book Tuesday (May 26, 2020)
Teen Book Tuesday (June 2, 2020)
Create with Lorie: Thursdays at 4 pm