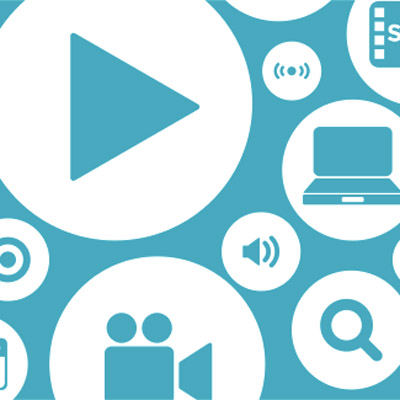 This page is being regularly updated. Please check back regularly for the latest updates.
Even though our doors are closed, Manlius Library is still open. Our staff has been hard at work developing virtual programming and expanding our digital offerings in response to the COVID-19 pandemic. The expansion of our digital branch allows our patrons to enjoy enrichment and entertainment from the comfort and safety of home.
Get a library card online!
If you don't already have a library card, get a virtual one now to access our online resources. Visit this page to get started. Once you've finished registering for an online library card, you'll have access to online content that includes downloadable and streaming ebooks, audiobooks, videos and music, online learning opportunities, and research databases.
Virtual Programming
Our librarians and storyteller have been working hard to transition our usual program offerings so that they are available on a virtual platforms. Our offerings will continue to expand over the coming weeks, so check our Event Calendar often for the latest information!
Online Story Times with Miss Karen & Miss Claire
Check out our weekly schedule to to see Miss Karen and Miss Claire via YouTube or Facebook Live through the week. Each of Miss Karen's videos will be posted to this playlist on our YouTube channel.
Mondays at 9 am : Toddler Story Time (YouTube)
Mondays at 10 am: Jigglebugs (Facebook Live)
Tuesdays at 9 am: Preschool Story Time (YouTube)
Wednesdays at 9 am: Toddler Story Time (YouTube)
Wednesdays at 7 pm: Pajama Story Time (Facebook Live)
Thursdays at 9 am: Preschool Story Time (YouTube)
Children's Programming
Miss Claire is doing pop-up programs on YouTube! Subscribe to our YouTube channel to be the first to know when her latest program drops. Miss Claire has already posted videos about planting seeds and making jar art.
Sharin' with Miss Karen
Miss Karen misses her friends and wants to see you! Every Monday at 2 pm, Miss Karen will share pictures from her friends showing what fun they've been up to. Have a grown-up email Miss Karen your pictures at kporcello@manliuslibrary.org so that we can see what fun you're having!
Chat with Miss Claire
Library kiddos, we miss your faces! Drop in to our Zoom session and say hi to Miss Claire (and her little ones). Share what you're up to and talk to Miss Claire about what you're interested in.
Sign up in our event calendar to get the Zoom meeting link emailed to you. You're welcome to come in and leave whenever you'd like!
Teen Programming
Check out Lorie's videos posted at 4 pm every Tuesday and Thursday to our YouTube channel. Tuesdays are Teen Book Tuesday, where Lorie talks about books that are digitally available as part of our Teen Collection. Thursdays are Create with Lorie, in which Lorie posts a DIY video showing viewers how to make a fun craft.
Also, check out our new blog for teens! Lorie will be keeping this blog updated with the latest information for tweens and teens at Manlius Library.
Programs for All Ages
Join Lorie every Friday at 12 pm for Lunchtime Poetry, in celebration of National Poetry Month! All videos will be published to this playlist on our YouTube Channel.
Adult Programming
Check our Event Calendar for the latest programming schedule and virtual meeting information.
We've created a new poll specific to adult programming. What would you like to see from us?
Expanded Access to Digital Resources
Manlius Library has introduced or increased access to eContent through several online platforms, including hoopla, RBdigital Unlimited Audiobooks, and Tumblebooks.
We have increased the monthly checkout limits to eight items on hoopla, so you can read, listen, and binge watch more from this platform at your leisure! In addition, hoopla is offering patrons a selection of titles that don't go against your monthly limit here.
Manlius Library is also happy to announce that we have expanded our subscription to RBdigital! In addition to eMagazines, we now offer a great collection of thousands of eAudiobooks on this platform, all with no holds, no waiting, and no checkout limits!
Note: Previous account users to RBdigital will need to create a new account to enjoy this new content from which they will be able to access both magazines and audiobooks. If you need help setting up an RBdigital account, please email help@manliuslibrary.org– one of our reference librarians will be happy to assist you.
We've also introduced access to Tumblebooks. TumbleBooks' databases are easy to use, and feature unlimited access from home! Patrons can read as many books as they want, when they want, and on any device. There are no check-outs, holds, or bulky downloads. Books are available instantly.
www.TumbleBookLibrary.com: eBooks for children in Grades K-6
www.TumbleMath.com: Math eBooks for children in Grades K-6
www.TeenBookCloud.com: eBooks for teens in Grades 7-12
www.AudioBookCloud.com: Audio Books for all ages
www.RomanceBookCloud.com: Romance eBooks for Adults
In addition to the aforementioned platforms, Manlius Library offers patrons access to a wide array of resources. Patrons can learn new languages via Mango Languages, watch award-winning films on Kanopy, and enjoy access to tens of thousands of eBooks and eAudiobooks on Overdrive, also accessible through Overdrive's Libby app.
We also offer home access to popular databases. All OCPL patrons with valid library cards have access to Ancestry from home. To get started, visit https://www.onlib.org/research/databases and click on Ancestry. In addition, career building resources can be found through our subscription to Gale Testing & Education Resource Center (TERC).
Access The Post-Standard Online from home for free!
NewsBank, available to all OCPL patrons, has curated collections of news articles by topic and trending stories. To get started, go to https://www.onlib.org/research/databases and click on Newsbank. Newsbank also offers free access to The Post-Standard, including blog and online articles. Visit Syracuse Post-Standard by NewsBank to get started!
Virtual Reference Help
We may not be at the library, but we are here to help! Email us anytime at help@manliuslibrary.org with any questions and we will get back to you as soon as possible. We are regularly monitoring email on weekdays from 9am – 5pm.
Contests & Challenges
Manlius Library Creates!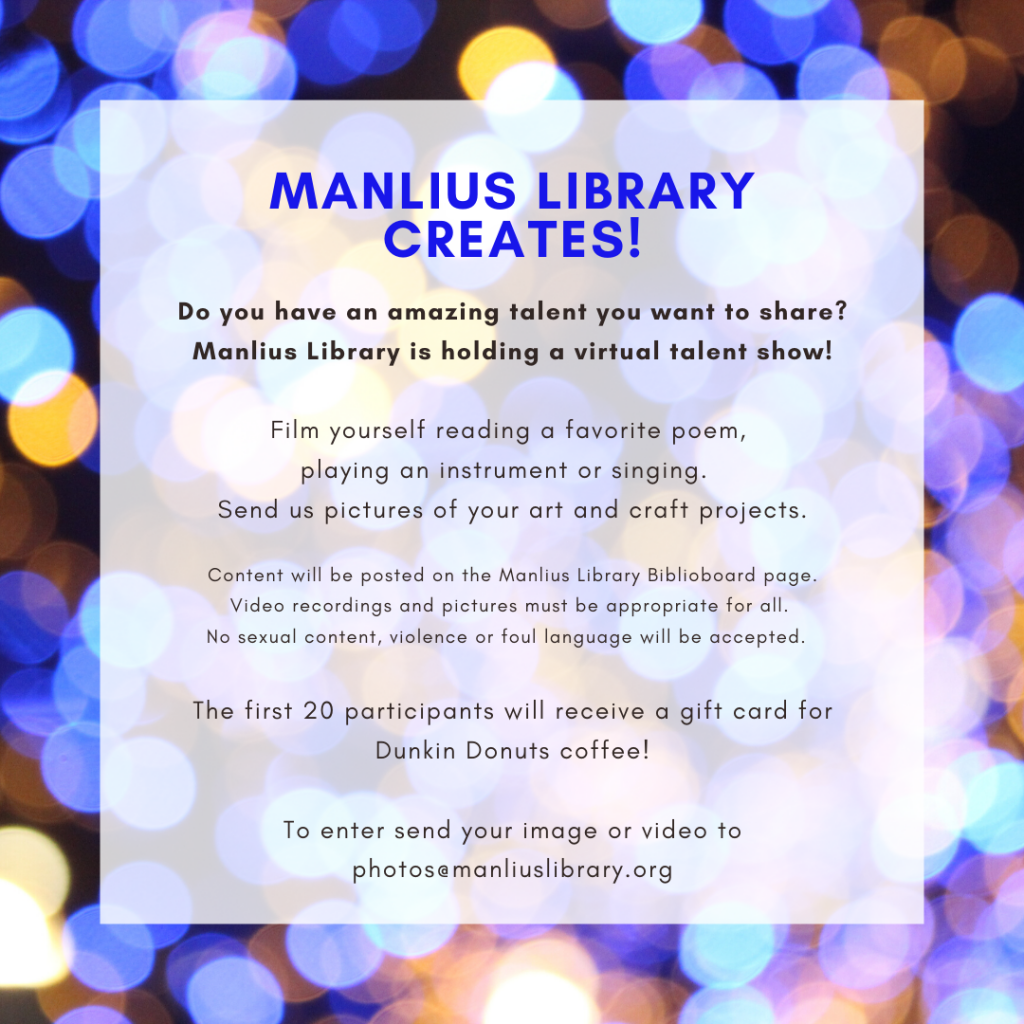 Visit our Manlius Library Creates page on Biblioboard here.