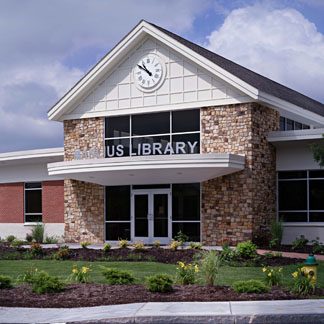 Need Help?
Email us anytime at help@manliuslibrary.org with any questions and we will get back to you as soon as possible. We are regularly monitoring this email on weekdays from 9am – 5pm.
Announcements
All programs, outreach, and room reservations at Manlius Library are canceled until further notice. We apologize for any inconvenience presented by these programs being canceled.
No fines will be collected for items that become overdue during this time. We will not be accepting any book donations at this time. Please do not leave any items outside of our doors. Syracuse.com has compiled a list of places accepting donations elsewhere in Onondaga County.
Get a library card online!
If you don't already have a library card, get a virtual one now to access our online resources. Visit this page to get started. Once you've finished registering for an online library card, you'll have access to online content that includes downloadable and streaming ebooks, audiobooks, videos and music, online learning opportunities, and research databases.
Welcome to Virtual Summer Reading 2020! Each of our three reading programs (Kids, Teens, Adults) will be held virtually this year via READsquared. This year's theme is Imagine Your Story. Program registration is live, with each program running until Friday, September 4. Participants must live in Central New York to be eligible for prizes, which must be picked up at Manlius Library. If you participated last summer, use the same log-in. Use the READsquared app for quick and easy logging from your iOS and Android device.
Adult Summer Reading (Ages 18+)
This year, we have two tracks for prizes: Summer Reading Classic and Summer Reading Bingo.
Summer Reading Classic: Report each book you complete this summer for ten points. Every 100 points you earn will earn you points towards virtual raffle tickets. Tickets be used to enter drawings for this year's raffle prizes, which each feature gift certificates from local businesses. Drawings will be held Tuesday, September 8. Participants can report a maximum of 20 books a day. The last day to report your completed books is Friday, September 4.
Raffle Prize Descriptions:
Books & Brews Raffle Basket: Includes a $42 gift card to Seneca Brew Pub, a growler, library swag and other items!
Baking Raffle Basket: Includes a $50 gift card to Mrs. Kelder's Cakes, an autographed Joanne Fluke book, a cookbook, library swag and other items!
Manlius Mart Plaza Raffle Basket: Includes $50 worth of gift cards to businesses in the Manlius Mart plaza next to Manlius Library, an autographed book, library swag and other items!
Essentials Raffle Basket: Includes a $50 gift card to TOPS, an autographed book, library swag and other items!
To redeem points for tickets, log in to READsquared, click the "Raffle" tab on the homepage, and click "Get tickets".
Summer Reading Bingo: Complete fun challenges to earn tickets for the chance to win this year's Grand Prize, a new Kindle Paperwhite. The Grand Prize drawing will occur on Tuesday, September 8.
Participants will earn one entry into the grand prize drawing for each Bingo line completed. Here are a few guidelines to follow:
Bingo cards can be filled out until Friday, September 4.
Completed books should not be counted towards multiple squares, so choose strategically! For example, completing a debut novel that has a three word title cannot count for both squares.
Completed books can also count towards Summer Reading Classic totals.
Books may be completed in any format you like- listen, read, do a combination thereof, whatever you prefer!
To fill out your Bingo board, log into READsquared and select the "Bingo" tab on the homepage. Your bingo card will then look like this: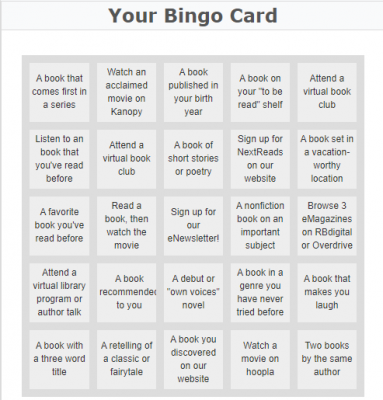 Career Help
Career building resources can be found through our subscription to Gale Testing & Education Resource Center (TERC). Users need an active Onondaga County Public Library card to log in. This database provides users with in-depth information on colleges and universities, graduate and professional programs, distance learning, corporate training, scholarships and awards, preparatory entrance tests and much more. Available online practice tests include entrance exams, certification and licensing tests. In addition, this database offers users access to a superb resume builder, which can accessed under Resume Writing in the Career tab on TERC's homepage. For questions about TERC, please email us at help@manliuslibrary.org.
Food Help
FM Food Pantry asks for monetary donations in lieu of food donations for the time being. Please do not leave any items outside of the library doors.
Onondaga County Seniors in need of help accessing food during this crisis can call 315-218-1987 for assistance. Also, 211 CNY is a great resource for anyone in need of community, social, or government services.
In addition, Manlius Senior Activity Centre (MSAC) will offer lunches for takeout and delivery. Their August 2020 menu choices can be found here. All meals must be ordered by 1 pm the weekday prior, meaning that a Monday lunch must be ordered by 1 pm on the preceding Friday. Lunches can be picked up outside the front door of the MSAC and will have the orderer's name on the bag. Lunches are $5.00, and can be paid for by check or cash in a box that will be next to the lunches. Please contact 315-682-7889 if you have questions.
Housing Help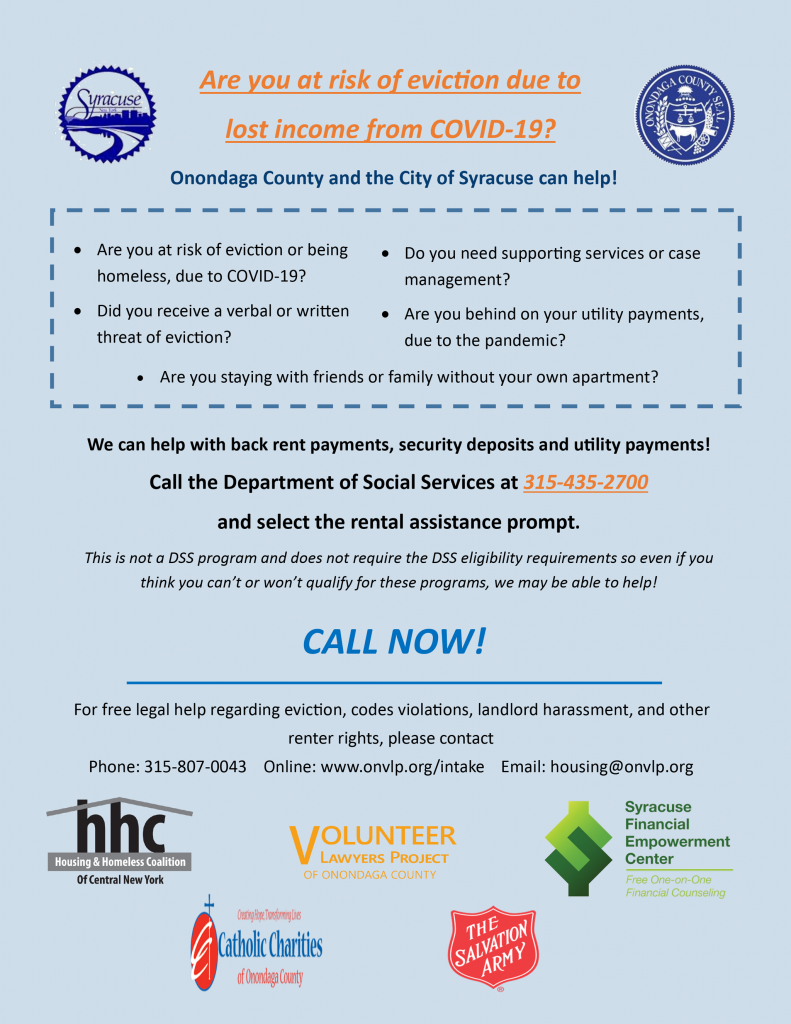 Access The Post-Standard Online from home for free!
NewsBank, available to all OCPL patrons, has curated collections of news articles by topic and trending stories. To get started, go to https://www.onlib.org/research/databases and click on Newsbank. Newsbank also offers free access to The Post-Standard, including blog and online articles. Visit Syracuse Post-Standard by NewsBank to get started!
ESOL Resources
Know someone who needs help with English a Second or Other Language? OCM BOCES sponsors ESOL classes on a weekly basis. Contact OCM BOCES at 315-453-4684 for more information.
Free Ancestry Research
All OCPL patrons with valid library cards, system-wide, now have access to Ancestry from home! Visit https://www.onlib.org/research/databases and click on Ancestry to get started!
Tumblebooks
TumbleBooks' databases are easy to use, and feature unlimited access from home! Patrons can read as many books as they want, when they want, and on any device. There are no check-outs, holds, or bulky downloads. Books are available instantly.
www.AudioBookCloud.com: Audio Books for all ages
www.RomanceBookCloud.com: Romance eBooks for Adults
Tech & eResource Help
Visit our tech help page for eResource manuals, help aids, and our tech tip of the week.
Click here for information on accessing some great resources online for all ages.
Follow us on social media!