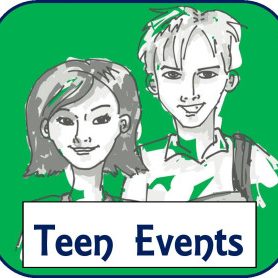 Check out our new blog for teens! Lorie will be keeping this blog updated with the latest information for tweens and teens at Manlius Library.
Get a library card online!
If you don't already have a library card, get a virtual one now to access our online resources. Visit this page to get started. Once you've finished registering for an online library card, you'll have access to online content that includes downloadable and streaming ebooks, audiobooks, videos and music, online learning opportunities, and research databases.
There's still time to sign up! Each of our three reading programs (Kids, Teens, Adults) are being held virtually this year via READsquared. This year's theme is Imagine Your Story. Program registration is live, with each program running until Friday, September 4. Participants must live in Central New York to be eligible for prizes, which must be picked up at Manlius Library. If you participated last summer, use the same log-in. Use the READsquared app for quick and easy logging from your iOS and Android device.
Register online here! Please read below for an official description of each program.
Report your progress online until Friday, September 4. Log your minutes/books and complete missions to earn points and be awarded badges. Complete the required missions to earn each badge in a category (Library, Read, Create, Play, Family, Explore) to get a Super Badge and 10 bonus points (Super Badges become available on Saturday, August 1). Each mission is worth different points; some of the missions overlap multiple categories (you only need to complete them once to count for all categories). Special programming and bonus badges will become available throughout the summer. Keep an eye out for them and their points!
Complete challenges, read and review books, and earn badges to make progress along the online game board. Each level of the game board (every 100 points) earns you an e-ticket to enter into the drawing of your choosing for the summer grand prize drawings. Every teen who earns at least 1000 points will also receive a prize pack to be picked up after Saturday, August 1. Teens who complete the game board will receive an additional prize pack to be picked up after Friday, September 4.
**PLEASE NOTE** Each 100 points you earn by reading and/or completing missions earns you 1 e-ticket. We will NOT have paper tickets as we have in past years. More prizes may be added as the summer progresses, and prizes are subject to change depending upon availability and opening status. All e-tickets MUST be submitted by the end of the program on Friday, September 4, 2020 at 11:59 PM. Please choose your e-ticket drawing entries carefully as changes cannot be made once submitted! Once a ticket is submitted, it cannot be removed from a drawing, moved to a different drawing, or edited in any way. One winner will be chosen randomly (on Saturday, September 5) for each prize unless otherwise stated. It is possible for the same person to win multiple prizes if e-tickets are submitted in multiple drawings. Grand Prize raffles are reserved for teens living within the Central New York area and are awarded at the library's discretion.
Teen SRP Grand Prize Raffles:
Amazon gift card ($25)
Apple gift card ($25)
Dunkin gift card ($25)
SnoTop gift card ($25)
Mrs. Kelder's gift certificate ($25)
SweetFrog gift card ($25)
Voltage Video Games gift certificate ($25)
Google Play Store gift card ($25)
OIP gift card ($25)
Dazzle gift card ($25)
**Note** It is possible to complete the program just with reading. It is not possible to complete the program without some reading. Missions alone will not earn enough points to complete the game board.
Join Lorie on our YouTube channel! Watch for secret codes to earn Teen Summer Reading points and badges!
Middle Grade Mondays
Join Lorie on the Manlius Library YouTube channel for a fun hour of book talks, art/craft/steam, and other fun activities!  Each program will include a code to earn points and a badge in the Teen Summer Reading Program.
Teen Book Tuesdays
Here are some of Lorie's latest Teen Book Tuesday videos, these book recommendations come out every Tuesday at 4pm:
Create with Lorie: Thursdays at 4 pm
Join Lorie every Thursday at 4 pm EDT for Create with Lorie!
Lunchtime Poetry
Join Lorie every Friday at 12 pm EDT for Lunchtime Poetry!
Need Help?
Email us anytime at help@manliuslibrary.org with any questions and we will get back to you as soon as possible. We are regularly monitoring this email on weekdays from 9am – 5pm.