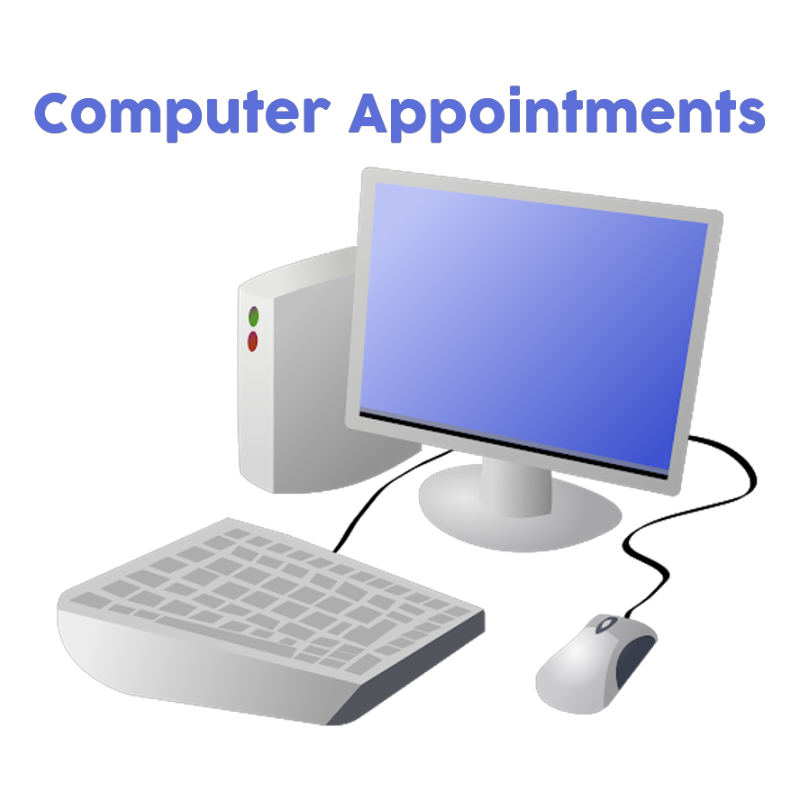 We're excited to announce that our patrons can now sign up to schedule a computer appointment, allowing them to enter the library and use a computer for a one hour block!
Appointments are strictly for computer use only, no browsing is allowed. Appointment lengths may not be extended beyond the one hour block. Each appointment slot is limited to one person, so a group would need to sign up for individual appointments. We can currently accommodate six patrons within a single timeslot. Patrons may not schedule more than one appointment at a time. At the end of the hour, all patrons will be required to exit the building.
Guest passes will be available for registrants who need them. In addition, printing and copying will be free of charge, but limited to 25 pages per patron. All printing will be released via the reference desk. Earbuds are available for patrons to use during their session and keep.
Patrons with technology appointments may receive technology assistance through the use of remote assistance from the reference desk computer.
All patrons are required to wear a mask covering their mouth and nose throughout the duration of their appointment in the library building.
To schedule an appointment, please visit our Event Calendar or call 315-682-6400 for assistance.
Appointment Time Slots:
Mon & Wed: 1:30 pm – 2:30 pm, 3:30 – 4:30 pm, 5:30 pm – 6:30 pm, 7:30 pm – 8:30 pm
Tues, Thurs, Fri, Sat: 9:30 am – 10:30 am, 11:30 am – 12:30 pm, 1:30 pm – 2:30 pm, 3:30 – 4:30 pm
During your scheduled appointment for computer use:
Arrive at your scheduled time. Appointments are limited to one hour and cannot be extended.
Please check-in at the main circulation desk. There will be a sign and a rope stanchion to indicate where you should stop for check-in. Once you check-in, you can proceed to a public computer.
Masks must be worn at all times when in the library and must cover both the nose and mouth.
Please sanitize your hands on entering the library and before using common equipment such as the printer/copier.
Computer equipment will be disinfected after each computer appointment.
Please wait 6' away from the person in front of you while waiting to be checked in for your appointment.
Earbuds are available for patrons to use during their session and keep.
If you would like to pick up your curbside delivery while you are there for your computer appointment, please let someone at the front desk know.
For everyone's safety:
The building will remain closed to the public during this phase except for limited technology appointments and the vestibule for curbside pickup.
Library staff will not be able to assist you in person but can provide remote technology assistance while remaining behind the desk.
Items may only be returned to the book drop and should not be brought into the library. If you have materials that should not be returned in the book drop (e-readers, WiFi kits, etc.) please call the library at 315-682-6400 to arrange a drop-off time.
All items are being quarantined for a minimum of 96 hours once returned and will remain on your card during that time. Late fees will not be accrued.
We are not accepting material donations until further notice.
Staff in the building is limited and working in shifts to maintain social distancing and decrease chances of spreading the virus. All staff will be wearing masks, washing hands, and using hand sanitizer to prevent the spread of the virus through the library materials. Door handles, computer equipment, and other areas that have been touched will be disinfected between appointment times, but please be certain to wash your hands or use hand sanitizer after being in public areas. Please be patient as we work through these new processes that will keep our staff and our community safe!