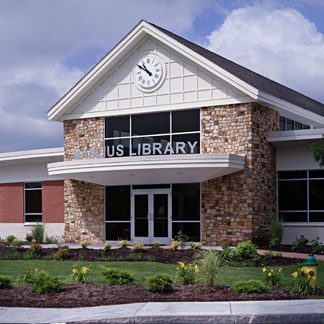 Need Help?
Email us anytime at help@manliuslibrary.org with any questions and we will get back to you as soon as possible. We are regularly monitoring this email on weekdays from 9am – 5pm.
Announcements
All programs, outreach, and room reservations at Manlius Library are canceled until further notice. We apologize for any inconvenience presented by these programs being canceled.
No fines will be collected for items that become overdue during this time. We will not be accepting any book donations at this time. Please do not leave any items outside of our doors. Syracuse.com has compiled a list of places accepting donations elsewhere in Onondaga County.
Get a library card online!
If you don't already have a library card, get a virtual one now to access our online resources. Visit this page to get started. Once you've finished registering for an online library card, you'll have access to online content that includes downloadable and streaming ebooks, audiobooks, videos and music, online learning opportunities, and research databases.
Take & Make Kits for Adults
Kits are available for pickup while supplies last. Please register and contact the library to schedule a pickup via Curbside Pickup.
September's kits are sold out! Registration for our next Adult Take & Make Kit will open in early October.
Upcoming Fall Programs
Manlius Informed Series
The Fall 2020 Manlius Informed Series will commence on Tuesday, September 15 and will run on Tuesdays at 1 pm through October 27. The Series will conclude with an event featuring members of WCNY's Ivory Tower. This season's events will be held virtually in response to the COVID-19 pandemic. Please register ahead of time for each event in our events calendar. Registrants will be emailed the Zoom meeting link shortly before the event begins.
September 15, 2020: Dr. Les Roberts of Columbia University visits. His presentation is titled "Working with the World's Poorest People: The Complications of COVID-19". Please register.
September 22, 2020: David Tyler, Publisher of Eagle News, visits to discuss local journalism. Please register.
September 29, 2020: TBA Please register.
October 6, 2020: TBA Please register.
October 13, 2020: Roy Gutterman, Director of Tully Center for Free Speech, visits. Please register.
October 20, 2020: Matt Kosty of Wild Birds Unlimited visits to discuss the Fall Migration. Please register.
October 27, 2020: Paula Johnson of Syracuse University College of Law visits. Her presentation is titled "The Past is Not Past: Civil Rights Cold Cases and Legacies of Voter Suppression". Please register.
Date TBD: The Ivory Tower visits to break down the results of the 2020 elections. Please register.
Monday Matinee
Monday Matinee is back! Every Monday at 2 pm, watch along and chat about the movie virtually via Kast! A free Kast account is required to join the viewing party. The link to watch our Monday Matinees on Kast will remain the same throughout the entire series.
Upcoming Schedule:
9/21: The Call of the Wild
9/28: Jojo Rabbit
10/5: Downhill
10/12: Miss Fisher and the Crypt of Tears
10/19: The Secret Garden
10/26: A Hidden Life
To sign up for a Kast Account, please go to https://w.kastapp.live/ and select "Create Account". Alternatively, users can sign into Kast with their pre-existing Google Account by clicking "Sign Up With Google".
Once you're logged into your account, you'll need to search for our Monday Matinee party- it's the first item you'll see when searching for "Monday Matinee". Simply send us a friend request for access. Once we accept that request, you'll be able to check back with us every Monday at 2 pm for another great movie!
Manlius Library Writers
The writers group has moved online! Join other writers every Wednesday at 3:30 pm to share your work, get feedback, talk about your practice, share news, and more. All ages, genres and experience levels are welcome! Please email Stephanie at slanger@manliuslibrary.org for an invite to our Zoom meetings.
German Club
Next meeting: Friday, September 18 at 2 pm
Join our German Club online for German conversation and practice every other Friday at 2 pm. All levels are welcome to participate. Email Stephanie at slanger@manliuslibrary.org for a Zoom meeting invitation.
Let's Talk About Books!
Next meeting: Thursday, October 1 at 11 am
Let's Talk About Books is an informal group where participants take turns briefly talking about a recently enjoyed book. It's a great place to get ideas for what to read next and to share your excitement about what you've been reading! There's no pressure; if you'd rather not share but want to hear what others are reading, this is still the place for you.
Please register ahead of time for this event. Registrants will be emailed the Zoom meeting link shortly before the event begins.
Racial Justice Community Book Read
Next meeting: Monday, September 21 at 6 pm
You are invited to participate in a series of events that focus on racial justice issues in Syracuse and Central New York. These events are co-sponsored by Syracuse University College of Law, Onondaga County Bar Association, Onondaga County Public Libraries, and other organizations. We begin our series with the Inaugural Racial Justice Community Book Read. Communities across the country and locally have been torn apart by the effects of institutionalized racism in the criminal justice system. The discriminatory and disparate treatment of Black and Brown people have caused much anguish and anger and have sparked massive protests against the status quo. The recent deaths of George Floyd, Ahmaud Arbery, and Breonna Taylor have led to renewed protests against the policing of Black and Brown people which has resulted in many other deaths prior to these losses. The intensified calls to address racial injustice, inequality, and broader social justice concerns provide opportunities for communities to engage in conversations that can bring about knowledge, awareness, and transformation.
Our first reading selection is Just Mercy by Bryan Stevenson, the Executive Director of the Equal Justice Initiative (EJI), in Montgomery, AL. Just Mercy has been described as "a powerful true story about… the importance of confronting injustice." This acclaimed book has even been published in a Young Adult Version for the 12+ age group appropriate for middle schoolers!
"Just Mercy" is available through Onondaga County Public Libraries as a book and audiobook. Patrons can also check out the 2019 film on DVD or Blu-ray. To place a hold for pickup on this title, visit catalog.onlib.org/polaris to browse the online catalog. Visit www.onbar.org starting September 7 to register for the Racial Justice Community Book Read. Book discussions will begin on September 14 at 6:00 p.m. via Zoom and continue on a weekly basis until November 23. There will be no discussion on September 28 in observance of Yom Kippur.
The Good Immigrant Book Discussion
Wednesday, October 7 at 7 pm
Join us for a discussion highlighting a collection of critical essays written by immigrant authors titled "The Good Immigrant: 26 Writers Reflect on America". We invite community members to read the book and listen to the narratives of New Americans through a dialogue centered around immigration, integration experiences, identity politics, xenophobia, patriotism, and any and all things in between.
This event is held in partnership with InterFaith Works, The Center for New Americans and several libraries within the OCPL system. Copies of the book are available in multiple formats via OCPL. The discussion will be held virtually via Zoom. Attendees must register ahead of time for meeting access. After registering, you will receive a confirmation email containing information about joining the meeting.
Career Help
Career building resources can be found through our subscription to Gale Testing & Education Resource Center (TERC). Users need an active Onondaga County Public Library card to log in. This database provides users with in-depth information on colleges and universities, graduate and professional programs, distance learning, corporate training, scholarships and awards, preparatory entrance tests and much more. Available online practice tests include entrance exams, certification and licensing tests. In addition, this database offers users access to a superb resume builder, which can accessed under Resume Writing in the Career tab on TERC's homepage. For questions about TERC, please email us at help@manliuslibrary.org.
Food Help
FM Food Bank asks for monetary donations in lieu of food donations for the time being. Please do not leave any items outside of the library doors. FM Food Bank's mailing address is as follows:
F-M Food Bank
P.O. Box 626
Manlius, New York 13104
Onondaga County Seniors in need of help accessing food during this crisis can call 315-218-1987 for assistance. Also, 211 CNY is a great resource for anyone in need of community, social, or government services.
In addition, Manlius Senior Activity Centre (MSAC) will offer lunches for takeout and delivery. Their September 2020 menu choices can be found here. All meals must be ordered by 1 pm the weekday prior, meaning that a Monday lunch must be ordered by 1 pm on the preceding Friday. Lunches can be picked up outside the front door of the MSAC and will have the orderer's name on the bag. Lunches are $5.00, and can be paid for by check or cash in a box that will be next to the lunches. Please contact 315-682-7889 if you have questions.
Housing Help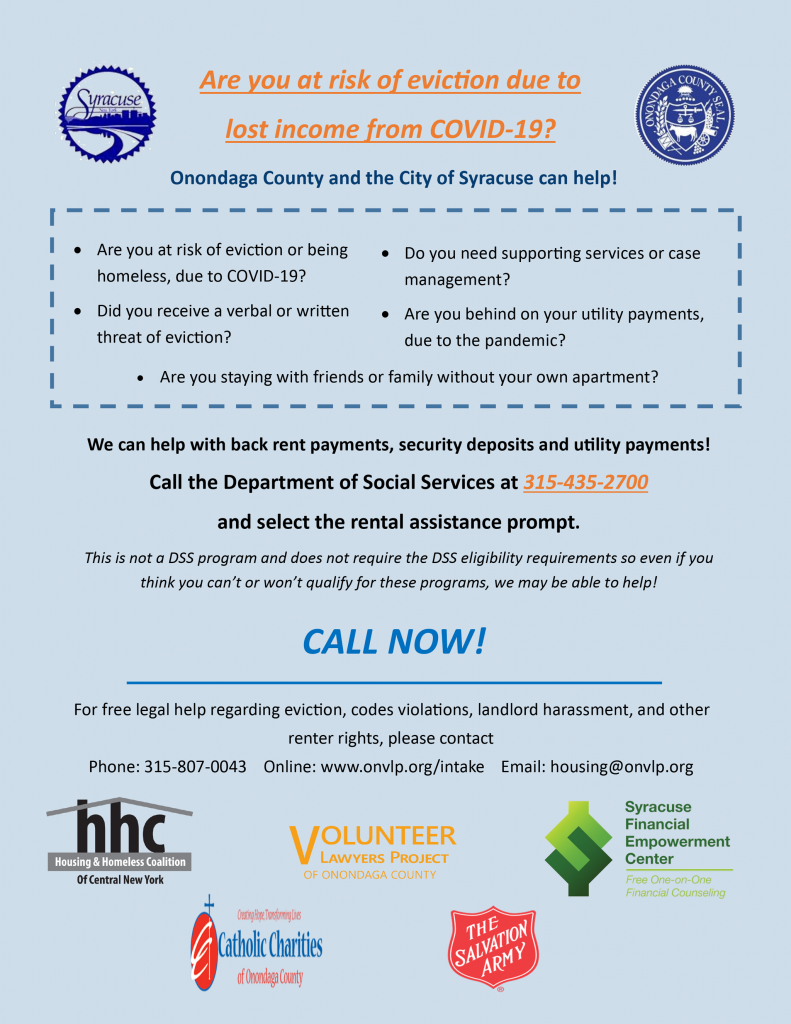 Access The Post-Standard Online from home for free!
NewsBank, available to all OCPL patrons, has curated collections of news articles by topic and trending stories. To get started, go to https://www.onlib.org/research/databases and click on Newsbank. Newsbank also offers free access to The Post-Standard, including blog and online articles. Visit Syracuse Post-Standard by NewsBank to get started!
ESOL Resources
Know someone who needs help with learning English as a Second or Other Language? OCM BOCES sponsors ESOL classes on a weekly basis. Contact OCM BOCES at 315-453-4684 for more information.
ENL Kits
Manlius Library is proud to offer ENL (English for New Learners) kits designed to help adults build their English skills. Each kit contains several helpful books and a Kindle Fire loaded with Mango Languages, a language skills-building resource that is free to Manlius Library cardholders. Visit this link in our catalog to hold a kit for pickup!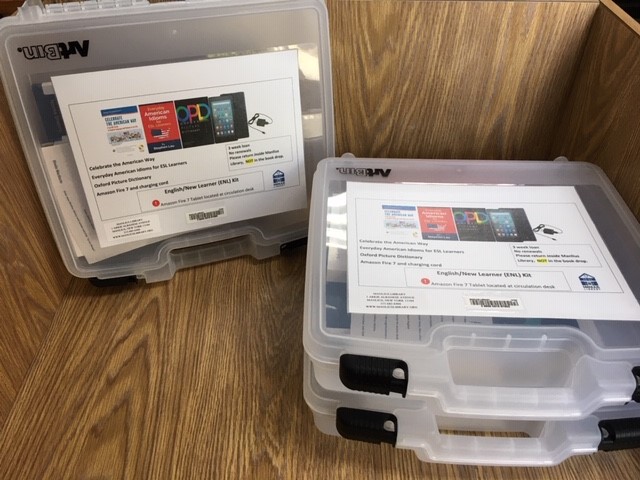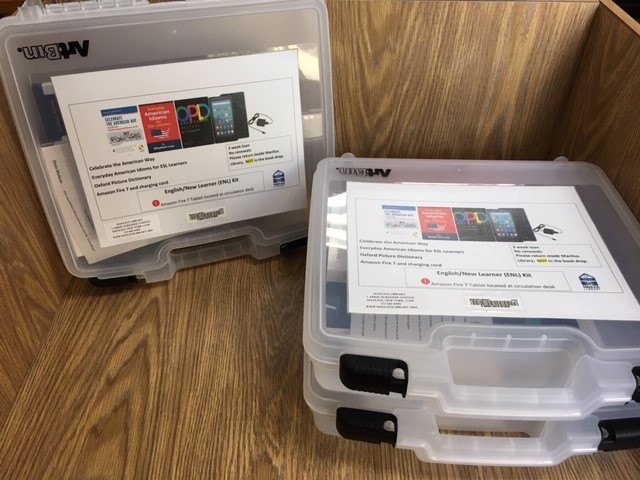 Free Ancestry Research
All OCPL patrons with valid library cards, system-wide, now have access to Ancestry from home! Visit https://www.onlib.org/research/databases and click on Ancestry to get started!
Tech & eResource Help
Visit our tech help page for eResource manuals, help aids, and our tech tip of the week.
Click here for information on accessing some great resources online for all ages.
Click here for a listing of non-partisan fact-checking websites.
If you are new to computers, haven't used them for a while, are a little unsure and uncomfortable, or just need a bit of a refresher, DigitalLearn has the tools to help you tackle technology at your own pace and gain the confidence you need to succeed.
Follow us on social media!