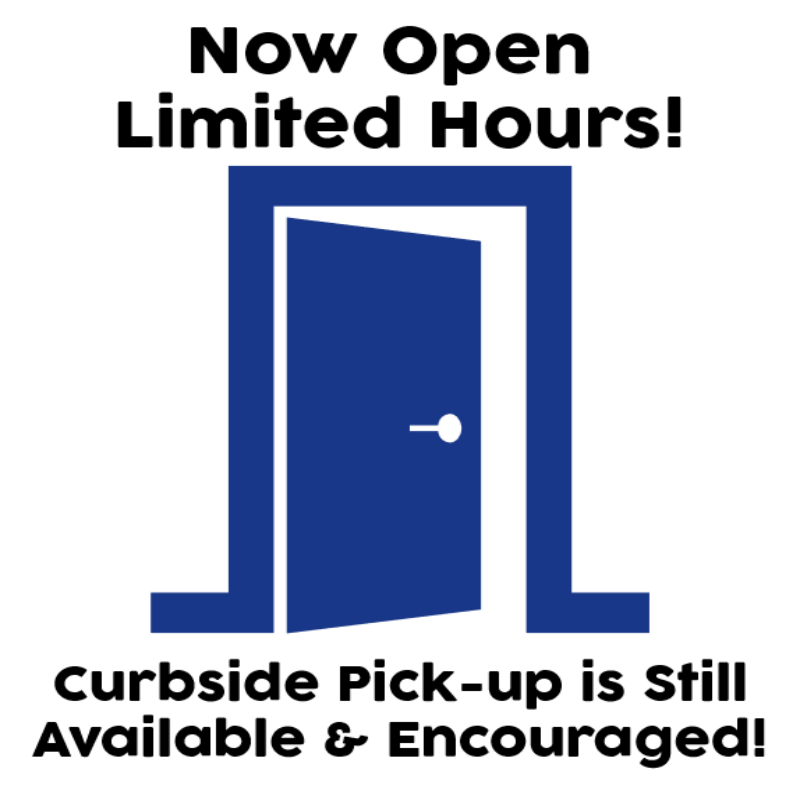 If you have a general question, please contact us at 315-682-6400 or help@manliuslibrary.org.
Reopening for Limited Hours
Manlius Library's doors are reopening on a limited basis!
We are excited to be able to safely and responsibly allow patrons back into the building. For two two-hour windows on Mondays through Saturdays, you'll be able to browse and check out items from our collection, use a computer, print, copy, fax, scan, get notary and reference help, and more!
At the end of each two-hour window, the library will close so that staff can sanitize and prepare the building for the next two-hour window. Our curbside pickup schedule remains unchanged.
Our schedule is as follows:
Monday & Wednesday: 2 pm – 4 pm and 6 pm – 8 pm
Tuesday, Thursday, Friday, & Saturday: 10 am – 12 pm and 2 pm – 4 pm
Please visit this page for additional information about what we're doing to keep our patrons and staff safe!
Curbside Pickup
If you have holds to pick up, please visit our event calendar to register for a pickup time! If you need assistance with signing up, please call 315-682-6400.
If there are specific items you want, go to our catalog and sign in to your account. Search for and place the specific titles you'd like on hold. Schedule an appointment when you receive a notification that your items are available for pickup. Please note: due to quarantine times for library materials, wait times for holds are currently longer than normal.
Want a librarian's expertise in selecting your items? Please visit this link to fill out the Reader's Advisory form.
Pickup Time Slots:
Mon & Wed: 1:30 pm – 3:00 pm, 3:30 – 5:00 pm, 5:30 pm – 7:00 pm, 7:30 pm – 9:00 pm
Tues, Thurs, Fri, Sat: 9:30 am – 11:00 am, 11:30 am – 1:00 pm, 1:30 pm – 3:00 pm, 3:30 – 5:00 pm
Please note that doors will only be unlocked during pickup time slots.
For more information about Curbside Pickup, please visit this page.
Printing Services
Email help@manliuslibrary.org and we'll print your items for you to pick up! No charge. 25 page maximum.
Notary Services
Notary appointments are now available at the library. Please call 315-682-6400 to schedule an appointment. Masks will be required for the entirety of the appointment.
Book-a-Librarian
If you have an in-depth reference question that you need help with, set up a Book-a-Librarian appointment with one of our reference librarians! Held virtually over Zoom, Book-a-Librarian appointments can be scheduled by emailing help@manliuslibrary.org or by calling 315-682-6400. We'll work with you to determine an appointment time that is mutually feasible. Appointments must be scheduled at least two business days in advance of the meeting.
Registrants will be emailed the Zoom meeting link shortly before the meeting begins.
For standard reference services, please call 315-682-6400 or email us at help@manliuslibrary.org.