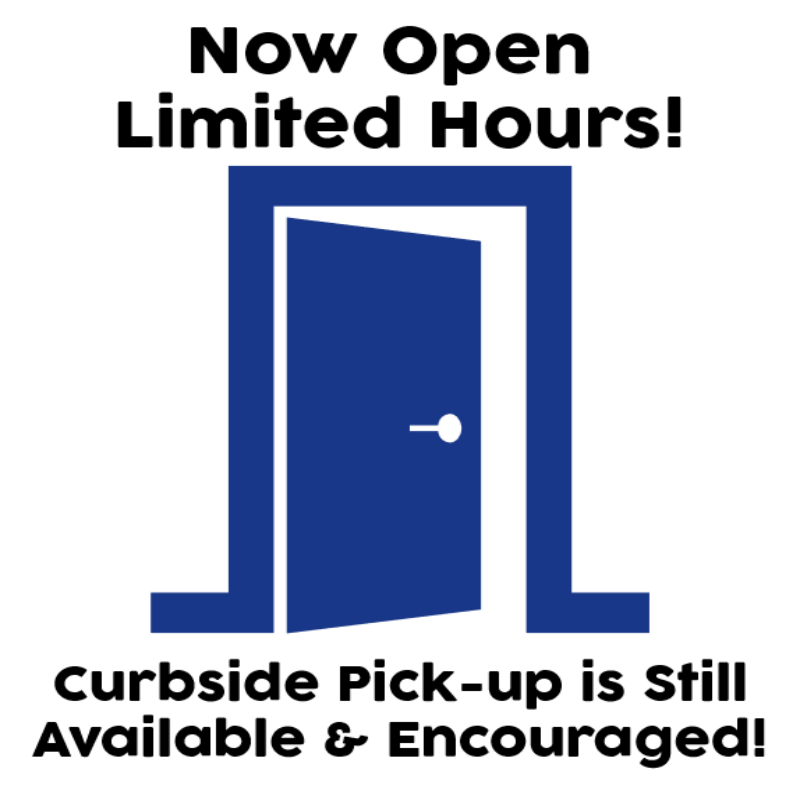 Open Limited Hours
Due to the ongoing COVID-19 pandemic, we ask that patrons keep their visits to the library under an hour. Thank you!
On Mondays through Saturdays, you can browse and check out items from our collection, use a computer, print, copy, fax, scan, get notary and reference help, and more! Our curbside pickup schedule remains unchanged.
Our building is open at the following times:
Monday & Wednesday: 2 pm – 8 pm
Tuesday, Thursday, Friday, & Saturday: 10 am – 4 pm
Curbside Pickup
If you have holds to pick up, please visit our event calendar online our via our new mobile app to register for a pickup time! If you need assistance with signing up, please call 315-682-6400.
If there are specific items you want, go to our catalog and sign in to your account. Search for and place the specific titles you'd like on hold. Schedule an appointment when you receive a notification that your items are available for pickup. Please note: due to quarantine times for library materials, wait times for holds are currently longer than normal.
Want a librarian's expertise in selecting your items? Please visit this link to fill out the Reader's Advisory form.
Pickup Time Slots:
Mon & Wed: 1:30 pm – 9:00 pm
Tues, Thurs, Fri, Sat: 9:30 am – 5:00 pm
Printing Services
Email help@manliuslibrary.org and we'll print your items for you to pick up! No charge. Maximum of 25 pages per day and 50 pages per week.
For Your Safety
Manlius Library has made numerous changes to protect the safety of our staff and patrons.
Items may only be returned to the outdoor book drop and should not be left in the vestibule or outside of the library entrance. If you have materials that should not be returned in the outdoor book drop (e-readers, WiFi kits, etc.) please call the library at 315-682-6400 to arrange a drop-off time.
All items are being quarantined for a minimum of 4 days once returned and will remain on your card during that time. Late fees will not be accrued.
For the safety of our patrons and staff, patrons will be asked to wear masks and maintain social distancing when in the library.
Library staff is limited, screened daily, and will be working in shifts to maintain social distancing and decrease chances of spreading the virus.
Glass barriers have been installed on the circulation desks and staff areas have been modified to provide safe distancing between staff and between staff and patrons, along with other updates that remove "touchpoints" and provide hand sanitizer throughout the building.
UV filters have been added to our HVAC system and we have increase the amount of outdoor air that comes into our building.
Restrooms are limited to one patron (or adult with children) at a time.
Public computers have been spaced further apart throughout the library to allow for social distancing and are disinfected between uses. Public computer sessions will be limited to one hour a day, and cannot be extended.
Toys are not available in the children's area and games/puzzles are not available in the teen room.
Newspapers are not available. Magazines cannot be read in the library, but can be checked out.
An additional self-checkout station is available in the children's area.
Regular disinfection of high-touch areas will occur, but please be certain to wash your hands or use hand sanitizer after being in public areas.
We will not be able to accept material donations until further notice.
The café is closed until further notice.
Rooms are unavailable for reservations until further notice.
In-person programming is postponed until further notice, but please check out our virtual programs!
Please be patient as we work through these new processes that will keep our staff and our community safe!