Note: Every Wednesday at 10:30 am, join Miss Karen LIVE for Family Story Time at the Village Amphitheater, weather permitting. All ages are welcome to attend. Adult supervision and adherence to social distancing guidelines are required. In case of inclement weather, Family Story Time will be broadcast at the same time via Facebook Live. Each of Miss Karen's Story Times will be posted to this playlist on our YouTube channel.
Miss Karen's weekly story time schedule is as follows:
Toddler Story Time: Tuesdays • 10:30 am (YouTube only)
Family Story Time: Wednesdays • 10:30 am (on YouTube and LIVE at the Village Amphitheater)
Preschool Story Time: Thursdays • 10:30 am (YouTube only)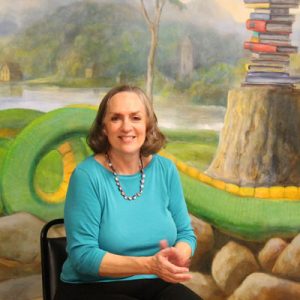 Free, fun learning! Share stories, rhymes, songs, movement activities and more with Miss Karen and Miss Windy.
Children will have fun as they learn. Parents and caregivers will discover how to model and support early literacy/learning activities and skills at home.
No registration required.
Check our event calendar for up-to-date information on cancellations, vacation weeks, and seasonal changes.
JiggleBugs
Mondays at 10 am
[year-round]
Shake and shimmy with Miss Windy!
Pajama Story Time
Wednesdays at 7 pm
[year-round]
Enjoy bedtime stories and songs with Miss Windy in time to wind down for bed. All ages welcome, and great for siblings!